GROW YOUR BUSINESS, ACCELERATE YOUR CAREER, BE RECOGNIZED AS A LEADER IN THE INDUSTRY, AND BECOME A MASTER COACH
The Most Respected Coaching Certification
in the Industry Today – JUST GOT BETTER!
Accelerate Your Business
and Gain the Recognition You've Always Wanted
by Joining the CPPS Master's Program Today!
Congratulations CPPS Coach!
You've done the hard work and now it's time to go to another level. You've established yourself as a proven fitness professional who is willing to do whatever it takes to get your clients better. The reality is that to truly help your clients, YOU need to get better. And that takes a relentless 'day-in-and-day-out' consistency if you want to become a better coach who makes a difference!
Here's the deal, we've taken you this far… grab our hands and we will take it from here. We know you want the recognition and respect from your peers in the industry and that takes a good reputation for being a great coach and it takes delivering big time results for all of your clients day-in-and-day-out. And if you're looking to grow your business, nothing will help more than understanding these facts and using them to grow a community within your facility.
THERE'S A REASON WHY CPPS HAS BEEN
FEATURED IN TOP PUBLICATIONS AND MEDIA
AROUND THE WORLD… IT'S THE BEST!
Check out this multi-page spread in Muscle Fitness Magazine: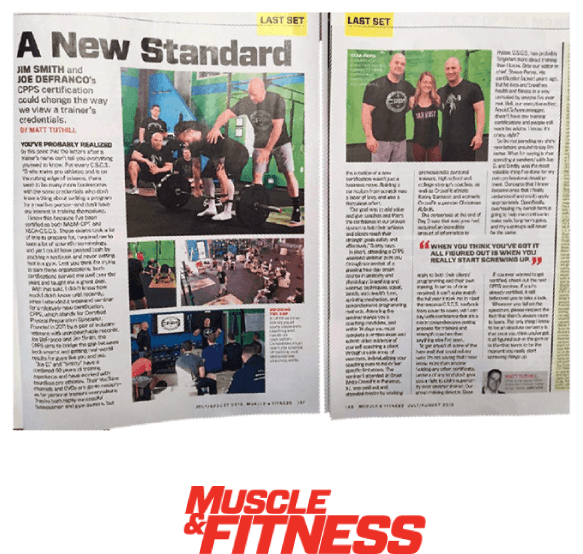 It featured statements like:
"It's a more comprehensive vetting process for trainers and strength coaches than anything I've seen in the industry to date."
"Smitty" and Joe D. have a combined 40 years of training experience and have worked with countless professional athletes. Their YouTube channels and DVDs are go-to resources for personal trainers everywhere.
"They're both highly successful businessmen and gym owners… and building a curriculum from scratch was a Herculean, time-consuming effort."
"Spending a weekend with Smitty and Joe D. was the most valuable thing I've done for my own professional development."
THE SUCCESS OF YOUR GYM AND YOUR REPUTATION
DEPENDS ON WHAT YOU'RE WILLING
TO DO TO GET BETTER
Here is the truth…
The CPPS philosophy is built on the idea of "continuous improvement". That means always improving your skills as a coach, growing as a communicator, and becoming a true entrepreneur. Every single one of these quality skills are important for longevity in the fitness industry and having a real business that delivers consistent streams of income for you and your family.
Let me be honest with you…
One of the biggest failures we made back in early 2012 – when the CPPS first started educating coaches all over the world – was not having a program for ongoing education in place for our coaches, trainers, PT's, and fitness enthusiasts. But, over time as the certification evolved into the industry-leading educational resource it is today, we have continued building the systems needed to fix this "gap" and we have been refocusing our efforts to transition the CPPS into a lifelong educational program.
We've literally left no stone unturned and the time has arrived to finally introduce…
THE NEW CPPS MASTERS PROGRAM
Every Respected Coach's New Secret Weapon
After attending the CPPS certification, many coaches wanted more. More knowledge, more interaction with Joe D. and Smitty, more exposure, and a stronger network to turn to when they had questions. That is exactly why we created the new CPPS Master's Program.
We are absolutely fired up to get this one-of-a-kind Master's Program started! We truly feel that this is the "upgrade" the CPPS coaching system needed to surpass all other competitors in the industry and leave them in the dust. Don't get us wrong, we feel we are already light years ahead of all the other certifications, but having more "face time" and interaction with our coaches and implementing a legit system of ongoing training – with the introduction of continuing education courses – is really going to take CPPS network of coaches to the next level.
HERE'S HOW THE CPPS MASTERS PROGRAM
WILL CHANGE YOUR COACHING FOREVER
INTRODUCING YOUR CPPS
MASTER'S PROGRAM INSTRUCTORS!
Along with Smitty and Joe D., the most respected leaders in the fitness industry will be teaching you their secret strategies and proven training protocols to help you on your journey toward coaching mastery.
FIRST CLASS: October 15, 2019 with Kelly Starrett!
THE CPPS CERTIFICATION IS CHANGING LIVES
ALL OVER THE WORLD!
Nick Citro
"I used to hate certifications. But that mindset has changed! I attended the CPPS in the early stages of my business, and even then, I walked away with more knowledge than from any book. You guys provide more insight than just learning 'facts' out of a book. The CPPS is the best hands-on practical experience every coach needs! The real knowledge is the practical application of different training methodologies – from A to Z – that Joe D. and Smitty cover during the certification. I have trouble sitting and staring into a book, because that is not how I learn. I stand by the CPPS protocol and believe it's the best because it is always growing and getting better. CPPS FOR LIFE!"
Austin Ryan Toloza
"The CPPS is one of the best certifications I have ever earned. Before opening my gym, I invested whatever I had left in the CPPS course and it helped me put together the foundations of our entire performance program. I'm about to enter my 4th year in business - in a very competitive city - and I'm so proud to have had Smitty, Joe D., and the CPPS training principles to help elevate my program and deliver results for my athletes."
Lou Sbrizza
"Two years ago, I became a CPPS Coach and it has changed me and my family's life! I was able to take a lifelong love of training and put it into practical use by helping my wife grow her softball instruction business. I knew how to train but I had no idea how to coach. The CPPS program taught me how to become a coach with its easy-to-implement systems. I now train athletes from all sports to help them achieve their max potential in the gym and on the field/court. I've since gone on to complete the CPPS Level 2 program, bought my dream house, and now I get to run our business from home. The support from Smitty and Joe D. every step of the way is encouraging and genuine. There are no ego's and they truly accept you as a colleague in the profession. I highly recommend the CPPS certification to any trainer regardless of experience level. It will change your perspective on training and your life - if you let it!"
THE NEW CPPS MASTER'S PROGRAM
The time is now and this is your opportunity to set yourself apart from other trainers in the industry. Being able to truly make a difference depends on your willingness to invest in yourself and your business and having a "white belt mentality."
The CPPS Master's Program is how CPPS coaches change lives. That is the bottom line. We are completely dedicated to your success and each and every single continuing education course will be a game changer for improving how you deliver value to every single person who comes to you for help.
Continue your journey as a CPPS master coach! Let's go!