THERE'S A REASON WHY THE CPPS
HAS BEEN FEATURED IN NATIONAL PUBLICATIONS
AND MEDIA AROUND THE WORLD…
IT IS SIMPLY THE BEST!
Check out this multi-page spread in Muscle & Fitness Magazine: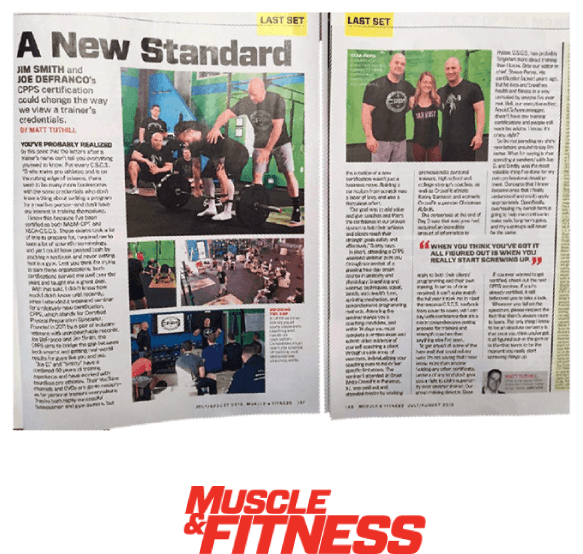 It featured statements like:
"It's a more comprehensive vetting process for trainers and strength coaches than anything I've seen in the industry to date."
"Smitty" and Joe D. have a combined 40 years of training experience and have worked with countless professional athletes. Their YouTube channels and DVDs are go-to resources for personal trainers everywhere.
"They're both highly successful businessmen and gym owners… and building a curriculum from scratch was a Herculean, time-consuming effort."
"Spending a weekend with Smitty and Joe D. was the most valuable thing I've done for my own professional development."
BECOME A CPPS
CERTIFIED COACH
PRACTICAL, PROVEN & EFFECTIVE
The Only Complete Training System
for Coaches and Trainers That
Guarantees Results!
When we started the certification in 2012, the CPPS mission was always to provide the most practical hands-on training system in the industry. And, over the course of the last 8+ years, we have worked tirelessly to create an impact and change lives. Coaches and trainers from all over the world have watched their businesses explode, expanded their gyms, and finally began to change lives after they learned our one-of-a-kind training system.
The truth is that the fitness world is rapidly changing. To stay on top of your game you must constantly expand your level of mastery. Now, you can eliminate the years of frustration and mistakes most personal trainers and coaches make and discover why 100's of elite coaches from all over the world have used the proven CPPS training blueprint to dominate their area market and accelerate their business by helping their clients and athletes reach their goals faster than they ever dreamed.
The comprehensive CPPS curriculum covers every aspect of strength training and performance, including breathing fundamentals, mastering the fundamental movement patterns, pre-movement preparation, strength training, power development, speed fundamentals, and the 7 critical components of effective program design – all of this packed into our comprehensive 2-day course.
Sign-up today and learn the system backed by science and proven in the trenches so you can become the trainer you've always wanted to be. Entering the gym with unparalleled confidence and the knowledge to help others live stronger and better!
Check Out How The CPPS Certification
Is Changing Lives
I took the CPPS Level 1 course this past May. By far, it is one of the best courses I have taken as a personal trainer. Through this course alone, I was able to break down a door that I have been knocking on for years! Over the past few years I began teaching myself and learning different stretching and rolling techniques. Just the mobility and activation modules of the CPPS course allowed me to take what I knew and what they taught me and build/run a flexibility program for Bergen Catholic's Wrestling team. I will forever be thankful for the knowledge they shared. I truly would not have been able to do this without taking this life-changing certification. And, because of the certification, I was able to expand my business! I will always be grateful for the opportunity to learn from two of the greatest minds in the industry....
- Meg Vitti, CPPS
"I attended the CPPS Cert In September 2014 and can honestly say every single aspect of the course was well worth the 3,200 mile journey from Ireland.
I originally signed up to the course as I was a huge fan of Joe D and Smitty's work on YouTube. When I received the Athlete Preparation pack I was even more impressed with the knowledge and application of these coaches. I continue to use the manuals and DVD's weekly.
I gained so much from the course itself, not only from Joe D and Smitty but from all the other attendants. There was a great atmosphere right from the start, 20+ like minded coaches absorbing but also sharing information and knowledge.
The game changer for this certification is how it all comes together over the 2 days providing all the coaches with a very simple to follow format that will help get results every time. I've...
- Paul Magee
"I attended CPPS in Sept 2013 at the WWE training center in Orlando, FL. Since that weekend my life has turned upside down in the best possible way in business and in life. In terms of coaching, CPPS helped in more ways than can really be listed, but the biggest game changer for me was the way I learned to break down my training methods so I can communicate them with my clients more effectively. Smitty and Joe D have an uncanny way of communication. When they speak, you can't help but listen. I had been a collegiate wrestling and athletic development coach for two years at that point and never had I felt more confident in my communication with my athletes than after that weekend.
In terms of business I'll never be able to repay what CPPS has done for me. When I attended my first CPPS, I was a...
- Ryan Wade
"The CPPS certification has helped me become better in not just training and coaching, but in all phases of my life. From proven athletic training programs, to joining a global network of top notch coaches, I have found no shortage of resources available within the CPPS community.
Additionally, I am constantly inspired by the positive and encouraging culture that Joe D. and Smitty have established with the coaches in the global CPPS network. The sense of pride and responsibility that comes with joining the CPPS team is invaluable. I would highly encourage anyone who is passionate about training and helping others reach their health, fitness, and athletic performance goals to become a member of the CPPS team. As with all things Joe D. and Smitty do, CPPS overdelivers!"
- Josh Lord
"A week after I completed my undergrad in Exercise Science I attended the CPPS seminar. I could not think of any better way to continue to further my education than to learn from two of the best in the field. The education that I obtained from completing the CPPS certification, I use with me every single day when I am training my clients at the gym. The environment that is created during the certification is great to be a part of and allows for the content of material to be absorbed much easier because it is all hands-on. By far, I learned more at the CPPS certification than I have from any other educational experience I have been a part of. I can't thank you enough!"
- Kyle Shannon
"My name is Gil Martin, I am 51 yrs old and fresh off the November CPPS certification. I am a Father of 3, Grandfather of 3, a U.S.M.C. Combat Veteran, a Scout Sniper, a recovering addict, and currently in the process of retiring from a 20 plus year career in the Mass. Dept. of Corrections.
I have been involved with athletics and competed in powerlifting, triathlons, submission grappling, and MMA (for job survival). With that being said, I needed to do something not only in my life but with my life. So far, everything I have ever done for a job has never had a positive outcome. Now to the good stuff.
I had stumbled onto Joe D. and Smitty on YouTube and was impressed with everything they were teaching. I kept thinking to myself, "THIS IS WHAT I'VE BEEN LOOKING FOR!" I signed up and the (curriculum) material got delivered and...
- Gil Martin
"Since attaining my CPPS certification, my entire concept of fitness and philosophy on strength training has changed drastically, and for the better. The CPPS certification has given me a sense of confidence and self-esteem I never knew existed in myself. The knowledge attained from the CPPS seminar has improved my own workouts, as well as, taking my personal training sessions to another level .I truly believe I wouldn't be the same person as I am today if it was not for the CPPS certification. To anyone considering attending a CPPS certification, I can't recommend it enough. It truly is a fantastic experience learning from Coach Smith and Coach Defranco!"
- John Ryan Dolny
"I attended my CPPS over a year ago and couldn't be more stoked with the information gained from it. I don't think I have missed an article or program that Joe D and Smitty have put out over the last 5 years and when I had the opportunity to go up and learn from them directly I jumped all over it. I am always asked what certification I put the most value in and it has to be my CPPS by far. The science-based knowledge that we learned prior to attending was phenomenal (in the curriculum), but then to have that solidified with the hands on coaching and corrections from them was invaluable.
My main background is in working with motocross racers, snowboarders, wake-boarders and tactical athletes, and recently I have ended up coaching a lot of high end competitive exercisers for time and have been able to build much healthier...
- Deacon Andrew
"In 15+ years of my professional career as a strength and conditioning coach I have never encountered a better, well-rounded certification that included programming for flexibility, mobility, strength, power, and speed training. The ability to immediately implement what you learn is astounding. By coupling all the educational literature from Hardcore, Power, Speed, Extreme, Amped, and what I took away from the hands on experience during the certification I was able to drop tenths of a second of an athlete's 40 yard dash with-in 45 minutes of our session. We are in a results driven business and that alone spoke volumes on what is to come after implementing these practices into my program. I would recommend it to anyone trying to gain a more in-depth knowledge on training athletes who want an increase in overall performance."
- Francisco Marentez, CPPS
"Joe Defranco and Jim Smith put together one of the most comprehensive educational programs and wrapped it up into an amazing two-day certification. I truly believe that every strength coach needs to attend the CPPS Level 1 certification, whether you are training athletes in a University setting or helping clients in a commercial gym. The practical application of their proven training principles will go a long way in helping you get the best results out of your athletes and clients!"
- Christopher Szefler

FIND A CPPS
CERTIFIED TRAINER
SCHEDULE & DETAILS
OF CPPS CERTIFICATION

join The CPPS
master's program
JOIN THE CPPS
INSIDER'S LIST
To get notified of Insider discounts,
upcoming courses, and live events!
THE CPPS CURRICULUM
IS ENDORSED BY